I'm sure if you read my blog at all you probably know that I love a good treasure hunt. You know the kind where you don't even know what you're looking for but You always KNOW when you have found your treasure.
Well what if you were just sitting at home minding your own business and a package full of treasures showed up to your door.
Dead Serious, this is what happened to me!
Vicky over @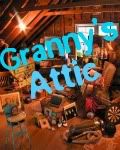 sent me a package full of treasures.
I got an email from her telling me that I was her 100th follower and that she was going to send me something.
This is what intrigued me to look at her blog. Isn't it cute?
She has so many cute thing on her blog, she really knows how to take a bunch of JuNk and turn it into a beautiful TreASuRE.
Check this one out
I know, super cute huh. You just need to go visit her because there are too many to show you here.
I had no idea what she would send but I was excited to find out.
I know, you can't really see everything so here are some of my favorites
This super cute frayed fabric. I'm going to put this on my picnic table.
Do you think she knows that I collect white buttons?
This is so unique, it's a pin and I love it.
But this is my FaVoRiTE. Look at that cute old key!
I LoVE old keys!
ThaNk YoU so MuCh Vicky, I am LoVing it ALL!
Did I mention, she's a total sweetheart?
Speaking of TreASuReS,
I just have to show you a couple of my own.
I think I might have had the best junk shopping day of my life. I'm not going to show you everything just yet but I am going to show you two things.
My sister actually found this one for her little girl that just turned 10.
Wait, it get's better. It opens up to these cute lights & a mirror. $3
I found this darling little night stand for $3.
I think I might fix him up for my nephews. He screams little boys room to me.
And this is what I found inside. Look at the date.
It's a stack (7) of checks and a bank statement from 1964.
K, I decided I'm going to show you one more
This cute chalk board. Only one problem....I
HATE
chalk.
I'm thinking I might fix it up for my nephew's room too.
(I don't care if other people have chalk in their house) hee hee
And look at how much it was.
A steal I tell ya!